Set Top Lawn Fertilizer 2 x 3.5 kg + 1 FREE
€22.49 €14.99
Tomato 'Country Taste' - Kiepenkerl
€5.00 €4.49
Lemongrass 'East Indian' - Kiepenkerl
€3.37 €3.03
Tomato 'Siderno' - Kiepenkerl
€5.00 €4.49
Tomato 'Aurea' - Kiepenkerl
€6.25 €5.62
€2.50 €2.24
Pepper Orange 'Habanero' - Kiepenkerl
€3.37 €3.03
Tomato 'Goldene Königin' - Kiepenkerl
€2.50 €2.24
€2.50 €2.24
Tomato 'Harzfeuer' - Kiepenkerl
€2.50 €2.24
Beetroot 'Rote Kugel 2' - Round - Kiepenkerl
€2.00 €1.79
Lupin Hartwega mix - Kiepenkerl
€1.50 €1.34
Mikoryza Ectovit – Do Iglaków – 300 g Symbiom
Availability:
na wyczerpaniu
Dispatched within:
24 godziny
add to wish list
0
Description
ECTOVIT® to produkt oparty na wyjątkowych zdolnościach grzybów ektomikoryzowych. Jest w formie płynnej, bardzo łatwy w użyciu w formie żelu po rozrobieniu z wodą. Jedna aplikacja na całe życie rośliny. Grzyby mikoryzowe zawarte w ECTOVIT® łączą się z korzeniami roślin, powodując ich rozwój oraz zapewniając lepszy dostęp do wody i substancji odżywczych, dzięki czemu rośliny są zdrowsze, bardziej odporne i witalne. Nasza mikoryza została wyizolowana z korzeni najzdrowszych roślin dziko rosnących.
Zalety stosowania mikoryzy ECTOVIT®:
Dużo lepsze odżywienie, wzrost i zdrowie.
Łatwiejsza i szybsza asymilacja po przesadzeniu.
Znacznie zmniejszone zapotrzebowanie na wodę i nawozy.
Zwiększona odporność na stresy środowiskowe (susza, zasolenie, niewłaściwe pH, metale ciężkie, toksyny, przesadzanie etc.).
Poprawa pobierania makro i mikro elementów, w szczególności fosforu i żelaza, dzięki czemu rośliny rosną szybciej i lepiej.
Wyższa odporność na patogeny. 
Większość drzew żyjących naturalnie posiada grzyby mikoryzowe na swoich korzeniach, ale drzewa sadzone przez nas w ogrodzie, sadzie, czy nowym terenie ich nie posiadają. Dlatego tak ważne jest dostarczenie korzeniom mikoryzy ECTOVIT®. Dzięki niej rosną zdrowo i długo.
ECTOVIT ® jest przeznaczony do większości drzew iglastych oraz niektórych liściastych:
– sosna, świerk, modrzew, jodła
– dąb, brzoza, buk,
– kasztan, grab, kasztan, daglezja,
– olcha, topola, wierzba*
– leszczyna, lipa
* te drzewa wymagają dwóch typów mikoryz – konieczne zastosowanie także SYMBIVIT®
Nie nadaje się do:
Do drzew owocowych oraz niektórych ozdobnych iglaków jak Tuja – do tych roślin użyj  SYMBIVIT®. Do roślin z rodziny wrzosowatych (rododendron, wrzosy, borówki, żurawina) –stosuj RHODOVIT®.
Sposób użycia i dawkowanie:
Opakowanie 100 gram zawiera torebkę suchego nośnika mikoryzy o wadze 34 gr. oraz torebkę z izolatami  grzybów mikoryzowych w płynie o wadze 66 gr. (na 1.5 litra wody)
Opakowanie 300 gram zawiera torebkę suchego nośnika mikoryzy o wadze 100 gr. oraz torebkę z izolatami  grzybów mikoryzowych w płynie o wadze 200 gr. (na 5 litrów wody)
Przykład: opakowanie 300 gram wystarcza na aplikację ok. 80 drzewek leszczyny lub 200 małych sadzonek roślin iglastych.
Najbardziej popularny sposób aplikacji to sporządzenie żelu. W tym celu należy wymieszać 2 torebki znajdujące się w opakowaniu ze wskazaną ilością wody. Otrzymamy zawiesinę, w której namaczamy korzenie roślin przed sadzeniem, jest to również najbardziej efektywny sposób, gdyż dokładnie pokrywamy całą powierzchnię korzeni, dając mikoryzie natychmiastową możliwość rozwoju. Możliwa jest także aplikacja do wąskich dołków wydrążonych do korzeni roślin (mikoryza musi dotrzeć do korzeni). W starszych sadach najbardziej wydajna metoda aplikacji to "szpilowanie" strefy korzeniowej przy użyciu opryskiwacza plecakowego lub ciągnikowego, za pomocą specjalnej szpilki, wstrzykujemy mikoryzę w strefę korzenia.
Opakowania: 100 g, 300 g
Ważne:
Przez pierwsze 3 tygodnie po aplikacji unikaj stosowania fungicydów układowych, gdyż mogą zaszkodzić mikoryzie. Należy ostrożnie dawkować nawozy chemiczne, aby uniknąć ryzyka przedawkowania (grzyby mikoryzowe zamieniają azot w formę amonową, a także udostępniają roślinom 70% więcej fosforu). Produkt można łączyć z nawozem organicznym CONAVIT. Okres ważności 1 rok. Żel musi być zużyty w ciągu jednego dnia od przygotowania. Produkt zawiera wyłącznie naturalnie występujące w przyrodzie grzyby i nie jest genetycznie modyfikowany, nie zostawia żadnych chemicznych pozostałości w glebie.
Skład:
Glinka jako nośnik, 6 rodzajów grzybów mikoryzowych w płynie, naturalne nawozy startowe dla mikoryzy, wyciąg z alg i innych organizmów morskich, biodegradowalny hydrożel.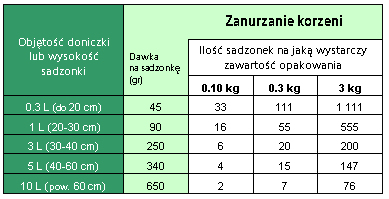 Pomocny aplikator do mikoryzy
[product id="23062886"]
Product reviews (0)